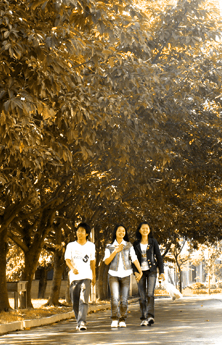 School of Physical Education
The School of Physical Education was born from the merger of Department of Physical Education of Sichuan Institute of Technology and Department of Physical Education of Chengdu Teacher's College.
The School offers 2 undergraduate programs in Physical Education and Performance (Physical Performance) and recruits students in the high-level sports team. All the courses cover a wide range of disciplines on somatic science, sports social science, track and field, swimming, gymnastics, martial arts, calisthenics, taekwondo and all kinds of ball games.
Through 50-year sustainable development, the School is equipped with advanced physical facilities, including 400-metre ground track field, 4 swimming pools, 6 tennis courts, 39 basketball courts, gym and training center for high-level sports team, etc. All the facilities and training fields cover an area of 132,000 square meters with indoor court of 13,000 square meters and outdoor court of 119,000 square meters.
Currently, there are 63 full-time teachers, including 6 professors and 28 associate professors. The faculty has rich teaching experience and training skills, so they have made great achievements in physical education. Since 2004, 8 textbooks and 109 academic papers have been published and 5 provincial research projects have been undertaken and fully accomplished by the School under the joint efforts of students and teachers.
Established in 2005, the high-level sports team began to recruit high-level athletes in ping pong, calisthenics and taekwondo around the country. Students of the School, on behalf of China, Sichuan Province and Xihua University, have attended various international and national contests and earned team championship for 15 times and individual championship for 13 times. The Xihua Cheerleading Team has earned national and international recognition by attending the 2008 Olympic Games in Beijing, the 2010 Asian Games in Guangzhou, and the 2008 and 2010 World Cheerleading Championships in Orlando, Florida, USA.