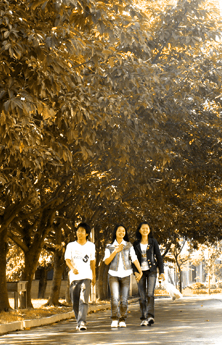 School of Foreign Languages
Founded in 1987, the School of Foreign Languages has both undergraduate and graduate degrees. It is granted to two master degree authorized units of "Foreign Linguistics and Applied Linguistics" and "MTI (Master of Translation and Interpretation). It also offers two undergraduate programs: English (Orientation in English teaching and English business) and Japanese.
The school has an excellent faculty of 120, including 7 professors and 36 professors. There are 57 teachers with master or doctoral degrees.
The School is equipped with advanced teaching and research facilities. At present, it has 18 computerized voice labs and multimedia language labs which are equipped with advanced audio-visual equipment and abundant visual aids.
The school boasts of its Australian Studies Center-the only one Australian Studies Center in Southwestern China. Established by XHU and Australia-China Council (ACC) in 2007, the Australian Studies Center mainly focuses on studies of Australian literature. It has been approved to be a provincial key research center by Sichuan Provincial Government in 2012. Our center aims to not only advance Australian studies and education in China, but also contribute to the multi-level cooperation between China and Australia.
The College has established student exchange programs with U.S., Japan, Korea, by which many students have the overseas opportunities to broaden their minds. Meanwhile, the school has hosted a variety of extra curriculum activities, including "Foreign Language and Culture Month", "Foreign Language Salon", to fulfill students' life and improve their capabilities.
The School has hosted frequent academic exchanges with renowned international universities and research institutions. More than 30 teachers have worked as visiting scholars and conducted research in the United States, Britain, Australia, Japan and Singapore.